Mrs. Smith's fourth graders want to thank all veterans for their service! After watching a video, they created a mural, on display at GIS, to thank and honor our veterans. Happy Veterans Day today!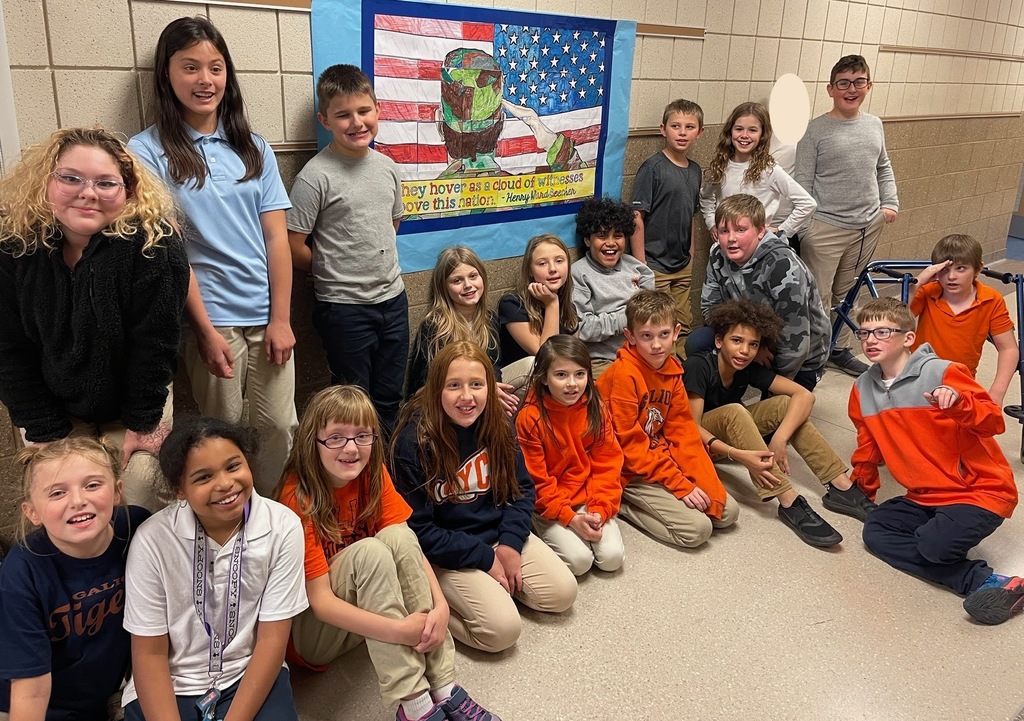 GIS is proud to announce that one of our very own 5th grade students, Jayden Truitt, was selected as an Ohio Lottery Academic All-Star. Jayden has really put forth effort in all of his classes and has been self-disciplined which is our monthly Portrait of a Tiger characteristic. Congrats Jayden- we are proud of you! Jayden will receive recognition on the lottery's website along with merchandise and a gift card for his award.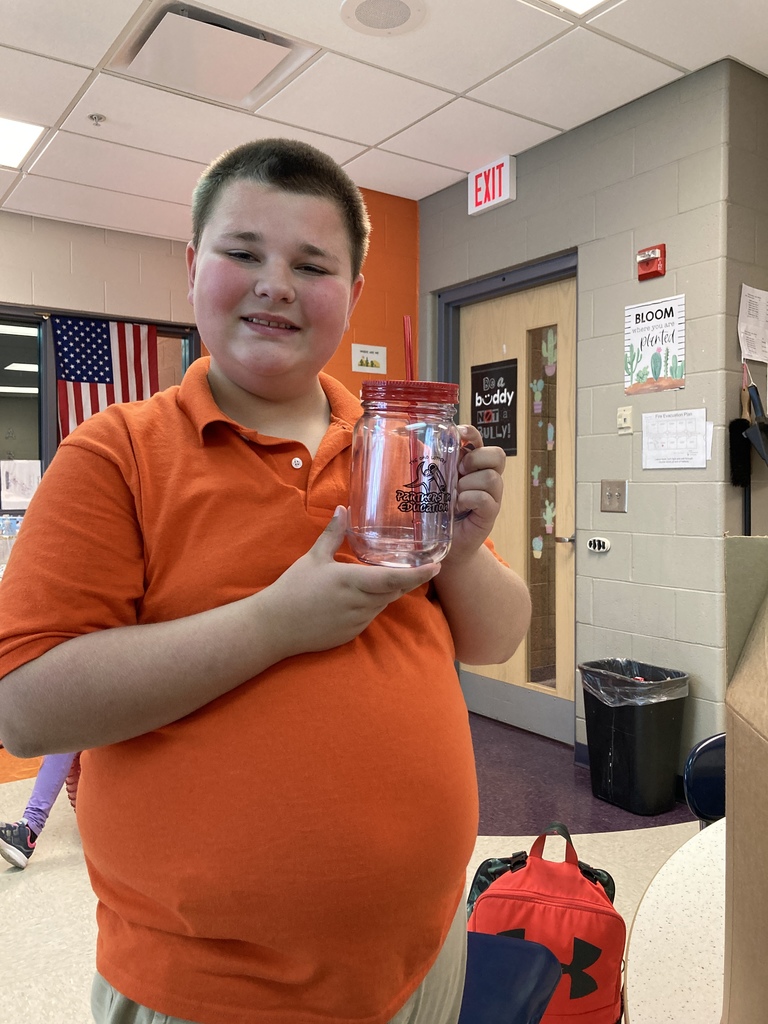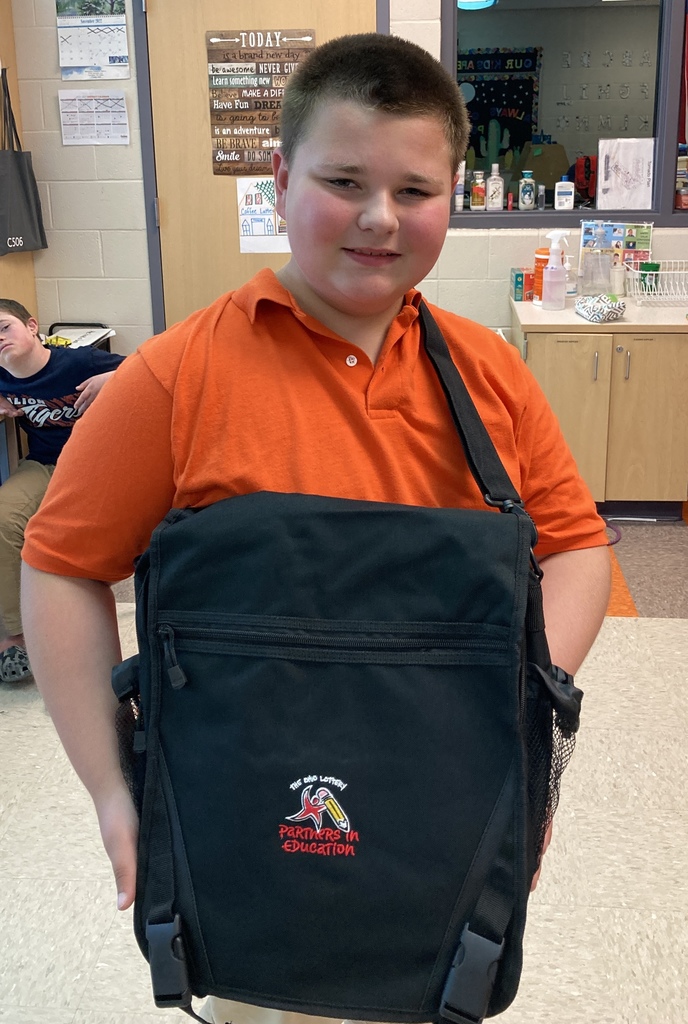 GIS Families, don't forget that we have NO SCHOOL on Thursday or Friday. As your students are off these next two days from school, we have a challenge for them to begin working on. Next week we want to thank our staff and teachers for all they do for our students in the building. Each day your student could participate by following the day of the week on the flyer. Mrs. Duffey is accepting the videos and pictures at
duffey.jessica@galionschools.org
. Thanks for making next week special for our staff and teachers. Mrs. Robbeloth and Mrs. Duffey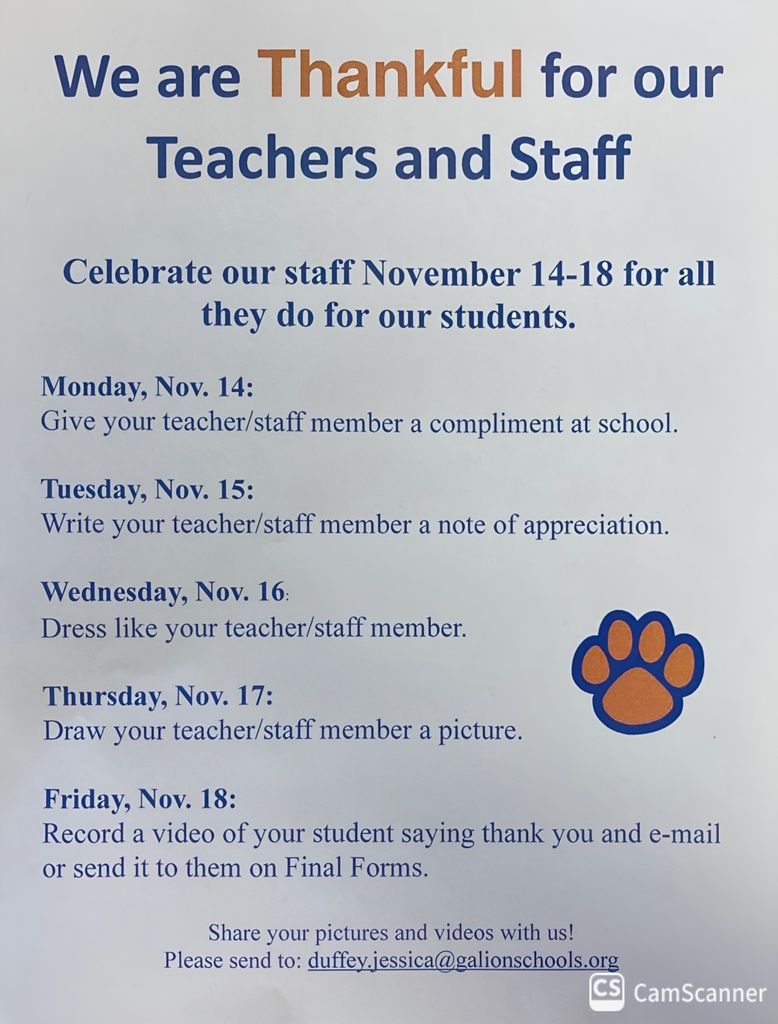 Some of our amazing 4th graders earning awards at our Final Friday last week. They earned certificates for either being the Habit Winner of their homeroom, most improved in reading or math, or being on the honor roll. Congrats to all of our award winners for the first quarter. Please check out your child's Leadership Notebook that is brought home each Final Friday- our next one will be 12/9 due to Thanksgiving Break.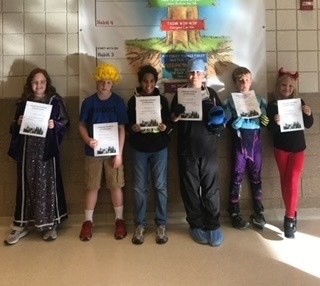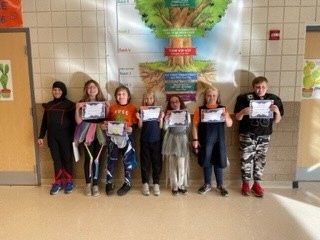 GIS 4th grade students had an awesome time during our Turkey Talk assembly. Students were able to learn all about turkeys and how they survive, their adaptations and habitats. They were even able to see what a real turkey looked like up close (of course it's been through the taxidermy process).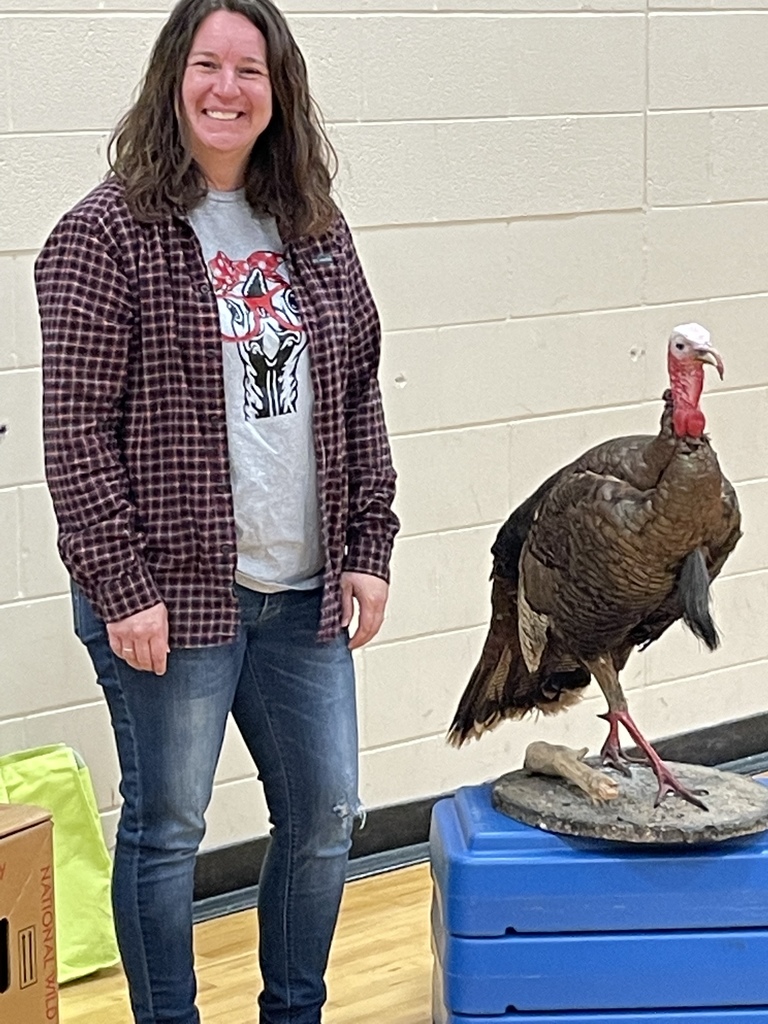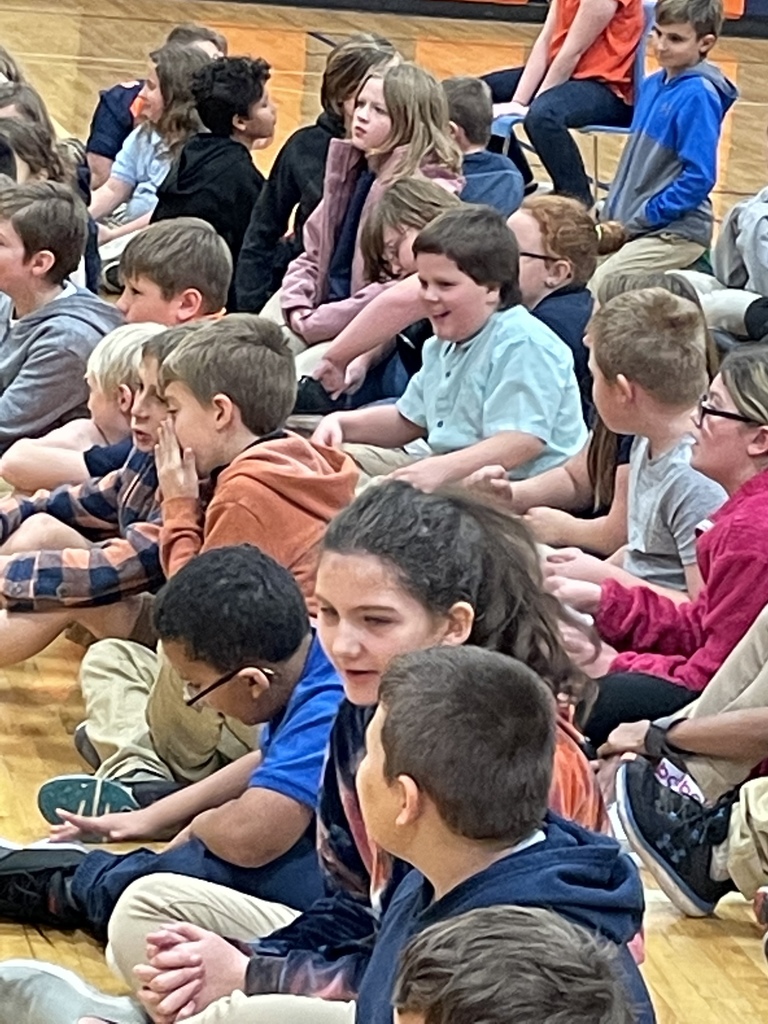 Students from Miss Keller and Seng's class enjoyed shopping at the Galion PTO book fair this week.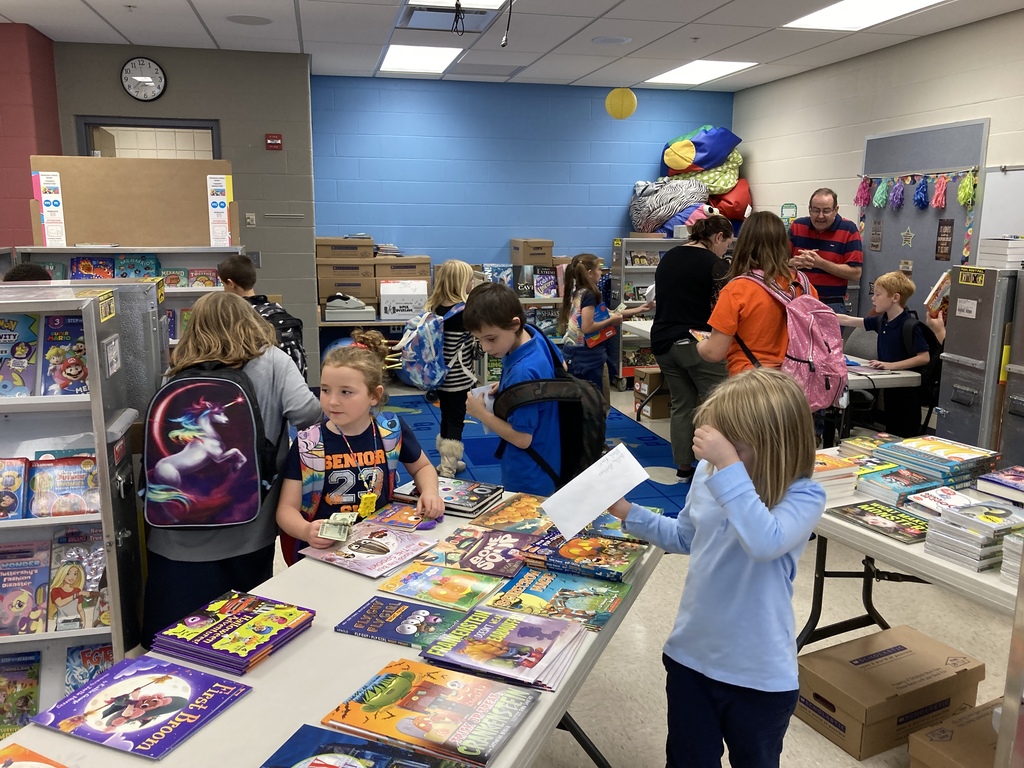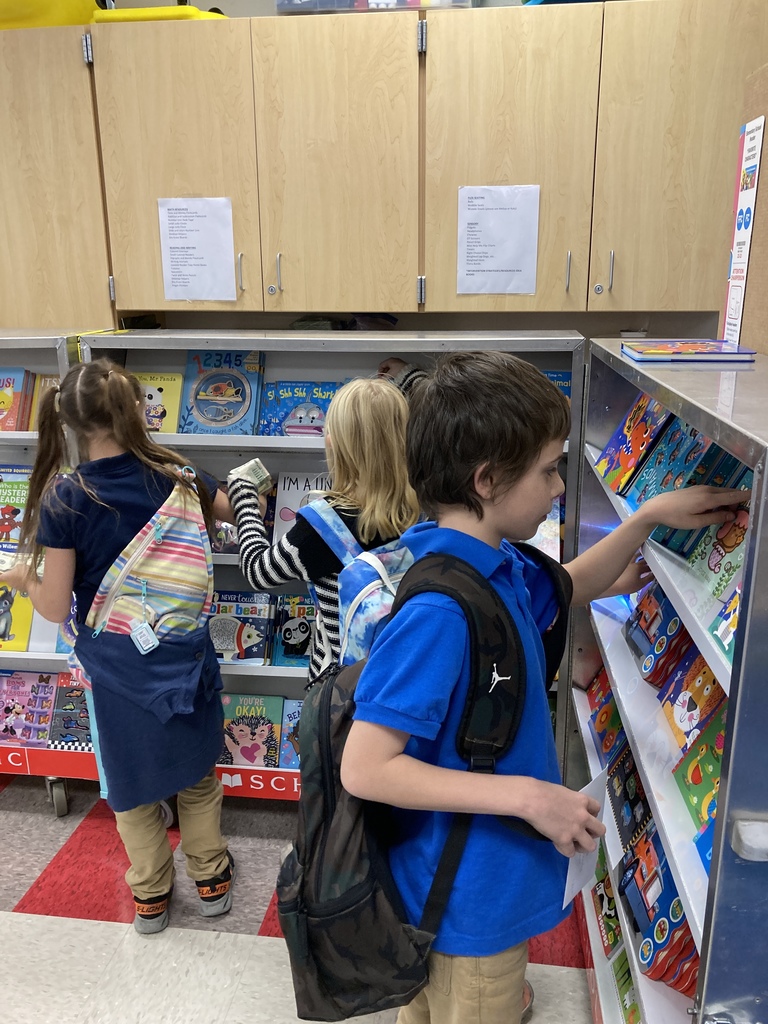 GIS 3rd Grade Families: Tuesday, 10/25 and Wednesday, 10/26 our 3rd graders will be taking their fall 3rd Grade ELA state test. Please make sure students arrive to school on time. Your child should bring home a letter with some tips for a good testing experience in their Tiger Folder. Please check it out.
GIS Families: If you have any fundraiser orders please return those to school no later than Thursday, October 20th. We will collect all forms from both buildings at the end of the day Thursday. Thank you!
During Connections Weekend, the GMS, GIS, and GPS lighthouse teams and GIS Safety Patrol members worked together to show the community their leadership skills. The GMS Lighthouse team trained our GIS and GPS tigers on how to serve our guests at the Kiwanis Pancake Breakfast hosted at Galion Intermediate School. The audience was also serenaded by the students at GIS and GPS singing the Leader in Me song. GHS sent over artwork to display for the event as well. Mrs. Robbeloth and Mrs. Allerding were very proud of our students and thanks to the staff from the various buildings that volunteered their time as well.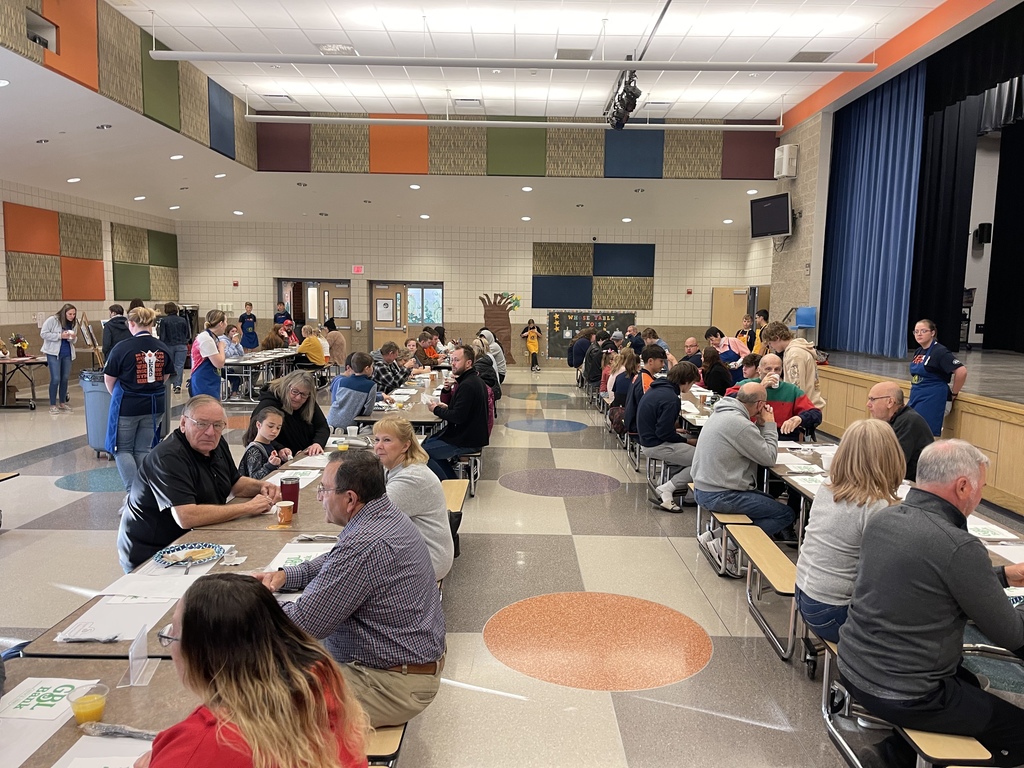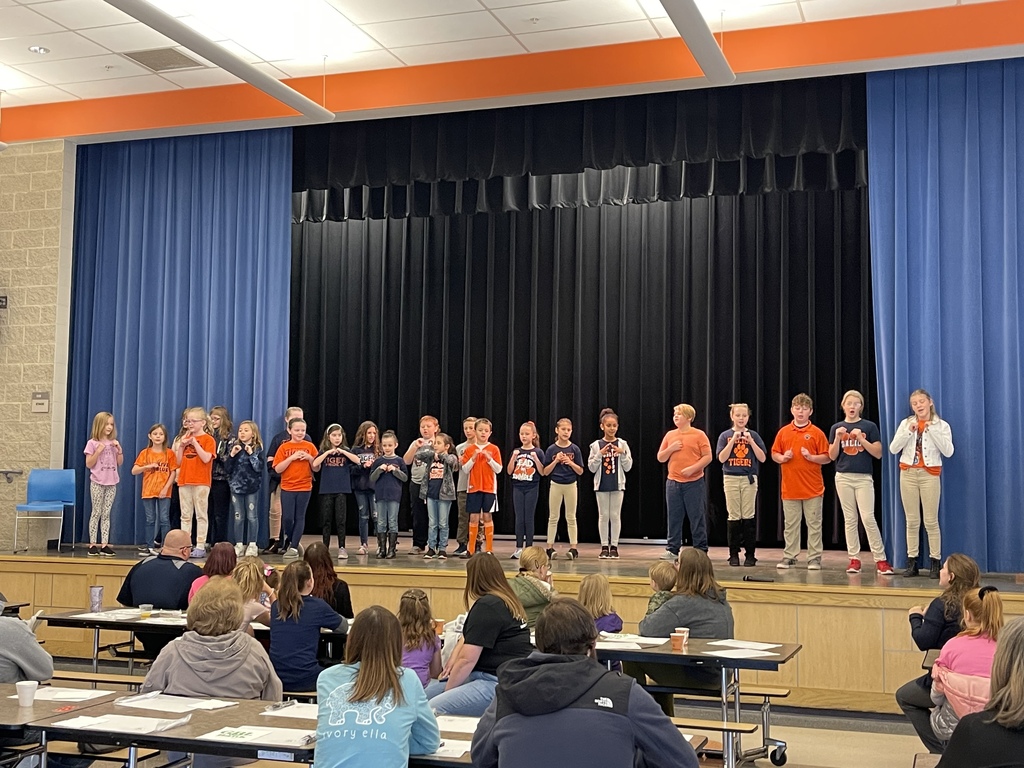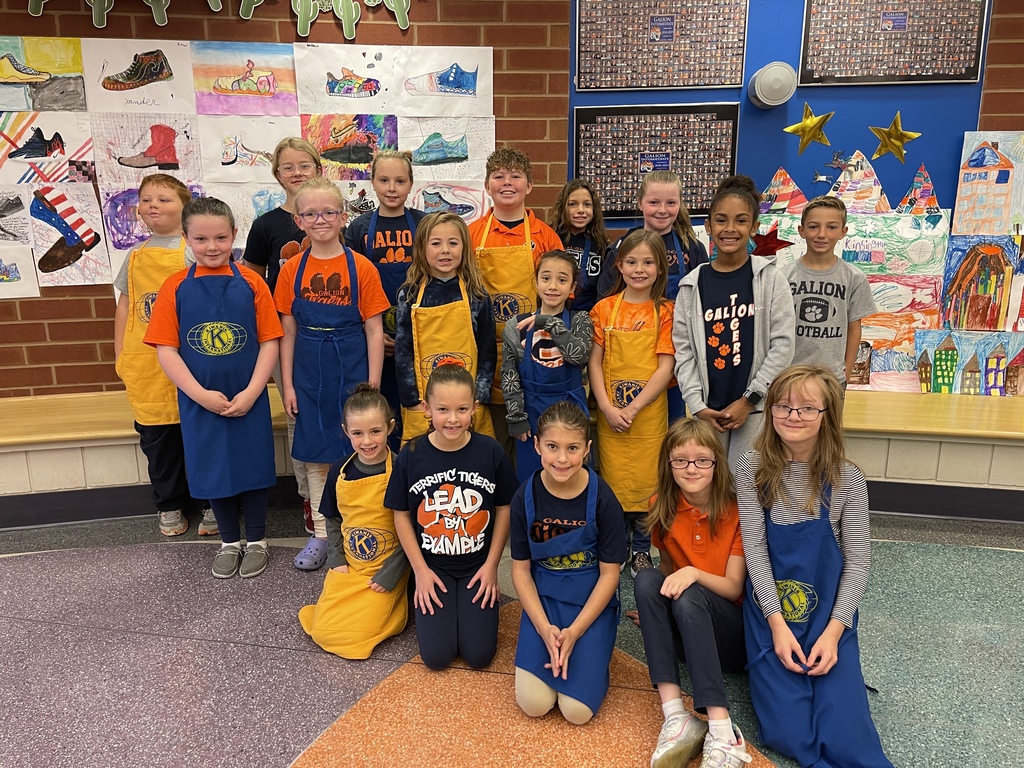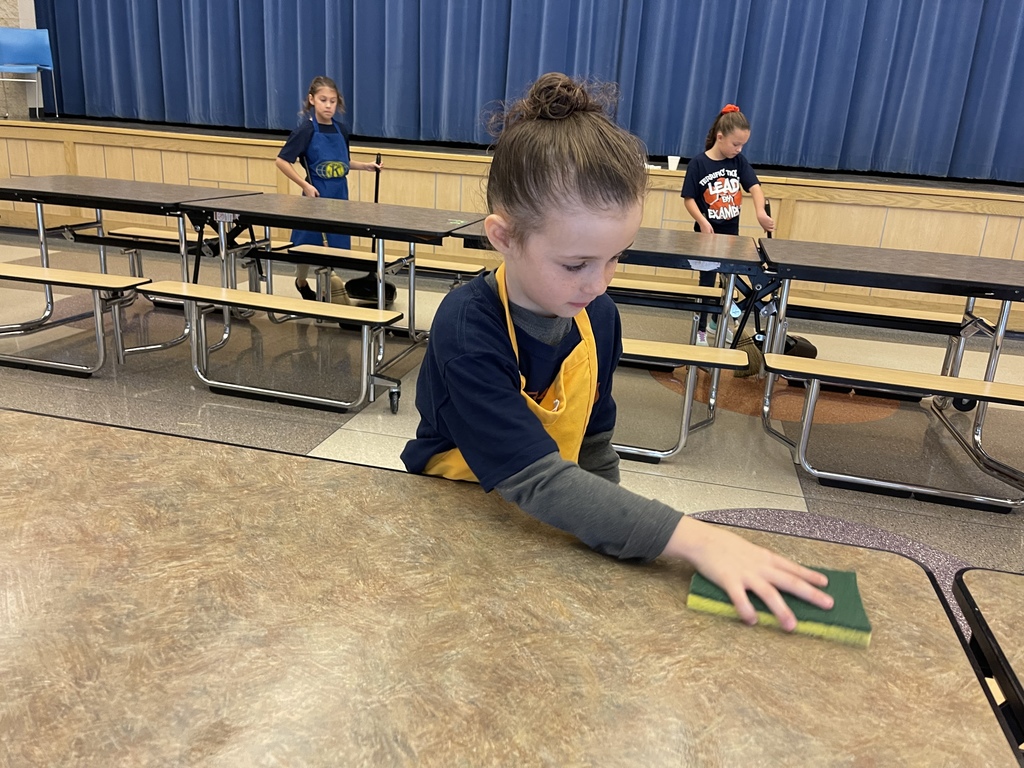 WOW! In Mrs. Buzza's class Aiden Sumpter set a Wildly Important Goal to pass all of his math facts (addition, subtraction, multiplication, and division) before his birthday this month and he did it! Mrs. Buzza said that she has never had a student do this so early in the year. Congrats Aiden for meeting your WIG! Mrs. Buzza and Mrs. Robbeloth are very proud of you.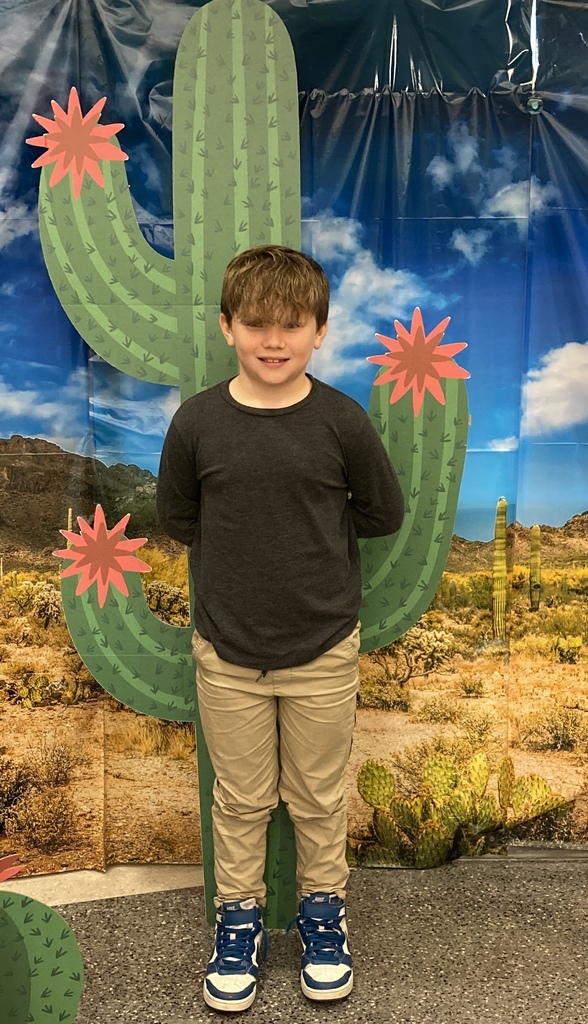 This week some of our 3rd grade classes (Buzza, Duckworth, and Smith) had a visit from the Galion Public librarians.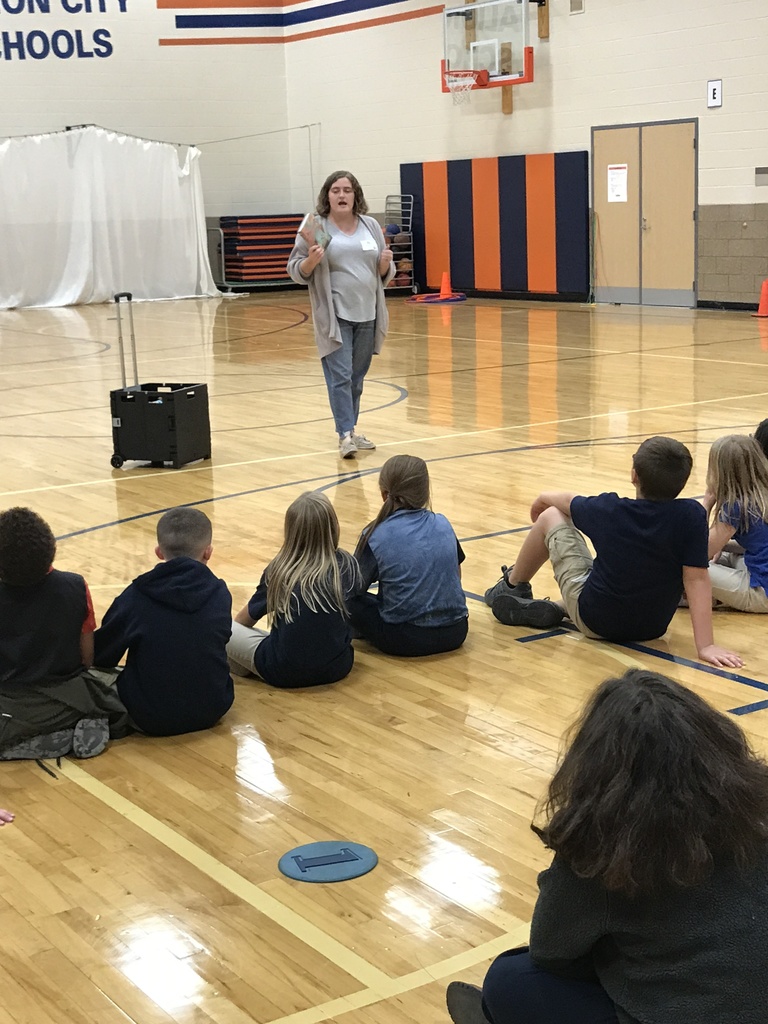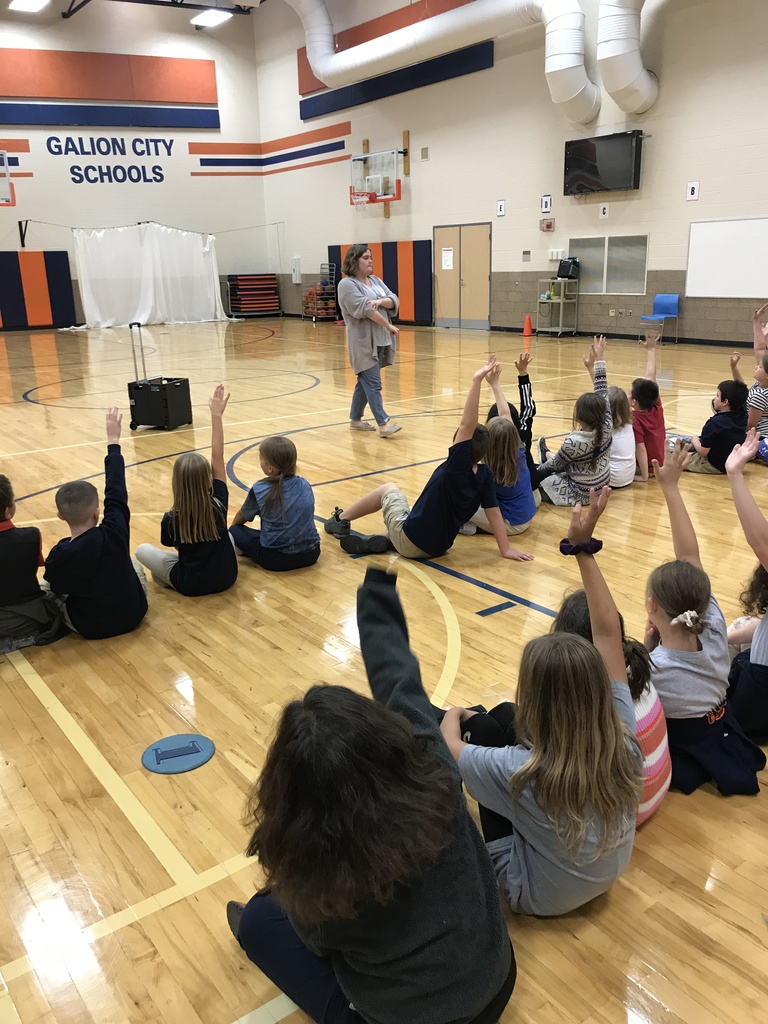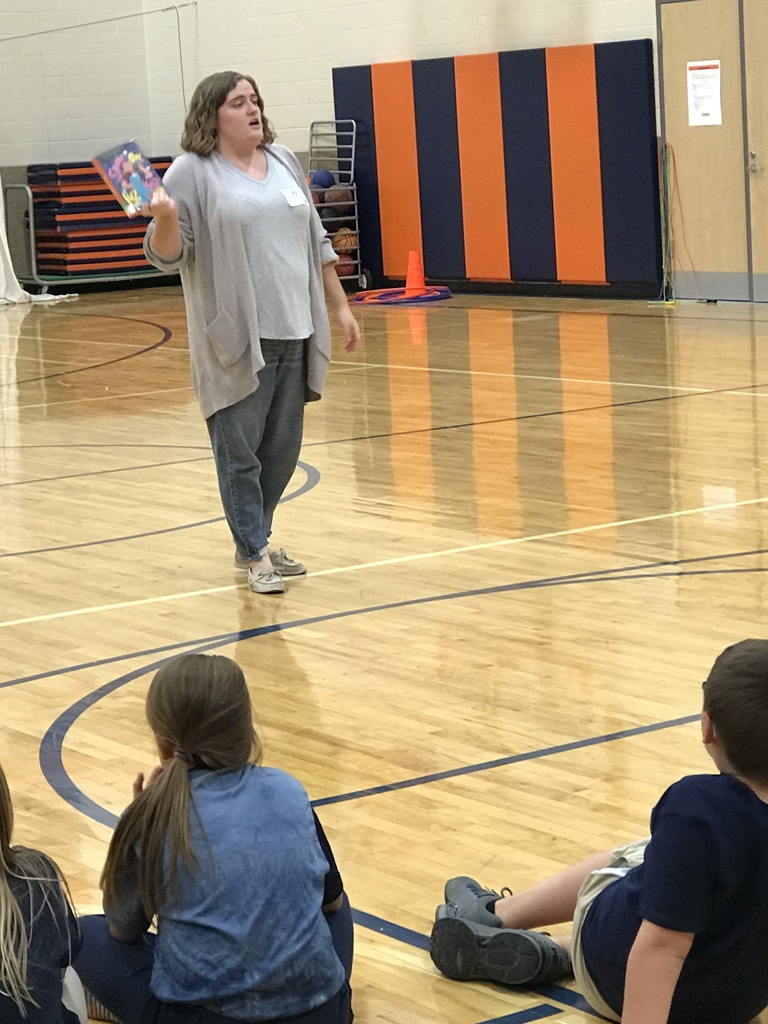 URGENT REMINDER GIS families...we will have three 2 hour early release times this school year. This is new! We will dismiss at 1:05. These mark the end of each quarter. These are also posted on the Galion City School District calendar. 10/14 12/16 3/10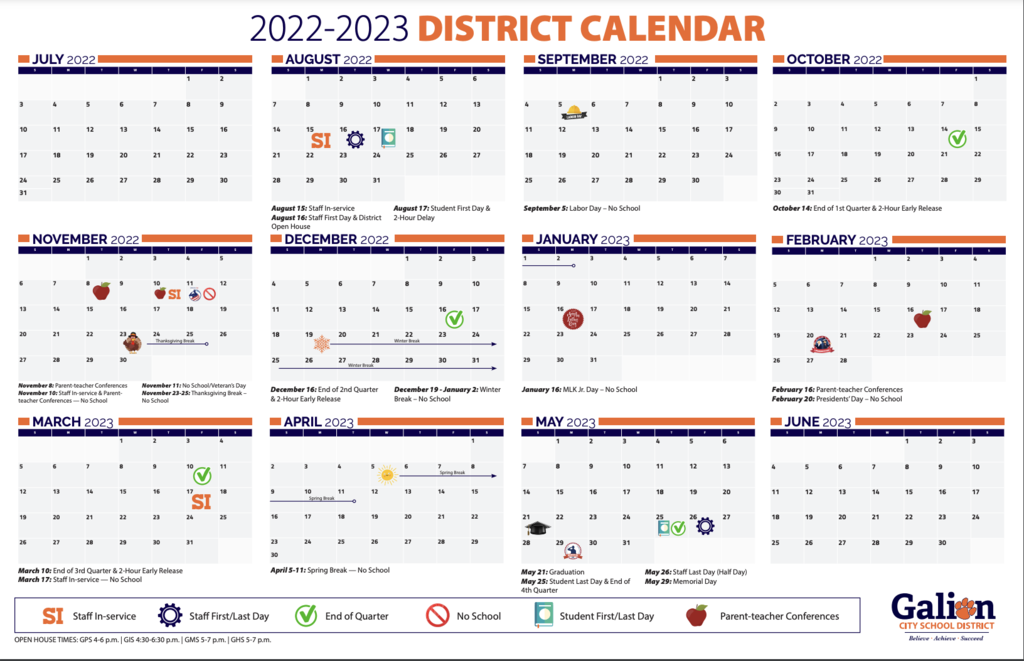 GIS Families...Picture Retake Day will be October 17th. Please mark your calendars. This day is for those students who missed the original date or parents who purchased and needed the photos retaken. Please call the school and ask for Jess Price if you have any questions about Picture Retake Day.
This week Mrs. Talbott's students Kayden Street and Grady Kildow learned about 3-D printing in our Makerspace with Mr. Lehman, after reading about the World Trade Center.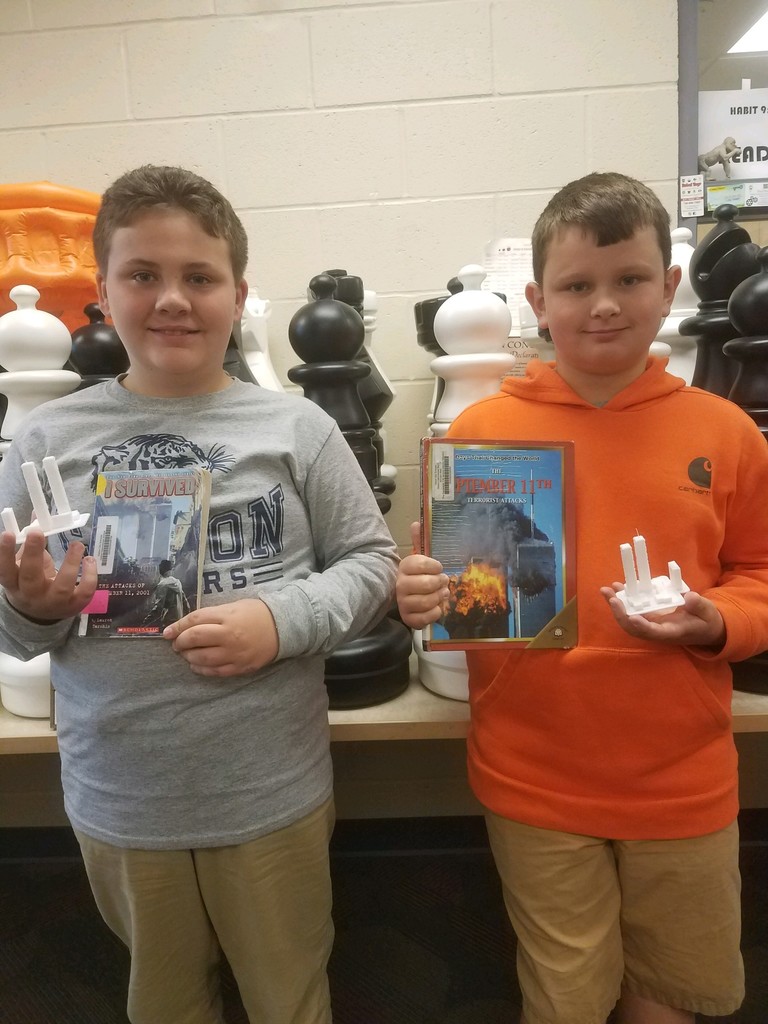 GIS is excited that our rock climbing wall is up and our kids are loving it! Mr. Willeke is teaching classes during the PE special, the safe way to use the newest addition to his class. Students begin to the right of the picture going across the monkey bars, then horizontally across the rock wall not to go past the top line, and make their way through the net to finish at the second rock wall. Students will only be able to use this part of the gym when the mats are on the ground and supervised by an adult such as Mr. Willeke. Also, it is not mandatory that your child uses the rock wall if they are not comfortable. Mr. Willeke offers open gym choices for those students such as jump rope, basketball, running or other types of exercises so they can continue to work on their physical wellness too.
GIS is proud to announce the Habit 1: Be Proactive winners for the month of September. Each homeroom teacher recommended one student from their class that exemplified the habit for the month. Being proactive means taking responsibility for our words, actions, and choices. Students received an award and Habit Leader t-shirt to wear with pride. Mrs. Robbeloth and Mrs. Duffey are very proud of these young leaders. 3rd Grade: Marissa Shipman, Bentley Emch, Aaliyah Salone, Bella Arthur, Leighton Coble, and Owen Peden 4th Grade: Alexa Young, Quinn Tyrrell, Audri Baker, Joslyn Sutton, Zena Arthur, Isabella McMillen, and Aiden Brown 5th Grade: Riley Stoops, Raegen Woodmansee, Alirae Pfleiderer, Jules Hazlett, and Izaia Lagmay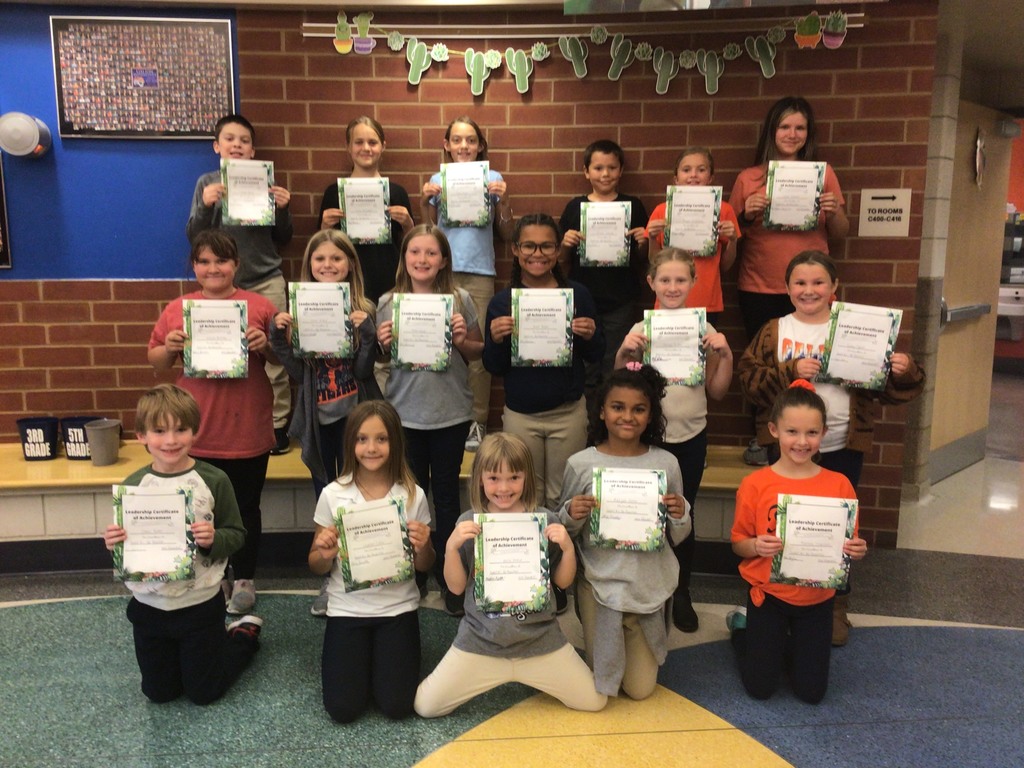 5th Graders from Ms. Prince and Ms. Showecker's class passed out boxes for our Socktober Collection going on from 10/3-10/31. Students at GIS are collecting new socks for a good cause. More information coming in the October family newsletter- please look there for details. We are trying to out do our last year goal by providing over 5400 new pairs of socks.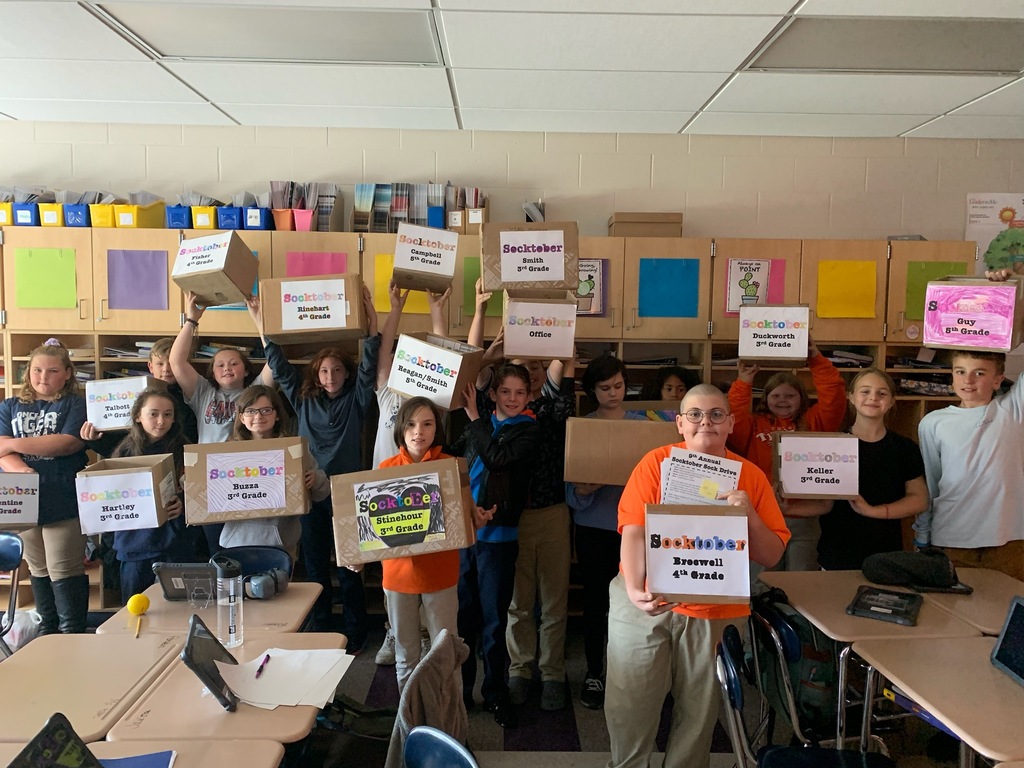 GIS Families we hope to see you tonight for Elementary Night at the HS Football game.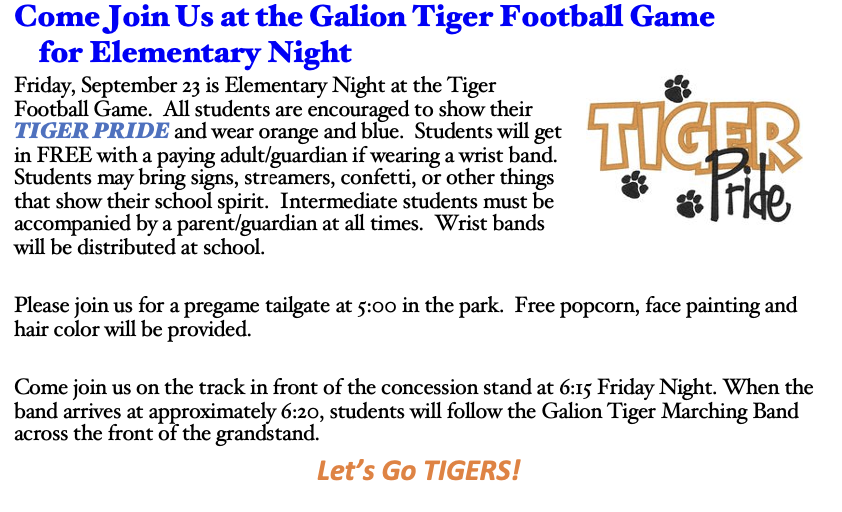 We are currently experiencing an issue with our district phones and internet. We are working to fix the issue.

We are currently experiencing an issue with our district phones and internet. We are working to fix the issue.